As a business owner, have you ever thought of what would happen if your company's IT infrastructure went down? Could your business cope with the downtime? If yes, for how long? Many businesses today rely so much on technology that even a minor disruption can result in lost profit, revenue, and dissatisfied customers. In fact, around 40 to 60 percent of small businesses fail to bounce back after a catastrophic event, and 90 percent fail within a year unless they can get their operations running within five days of a disaster. It sounds scary, but it's a reality business owners must face and be prepared for.
This is why it's important to have a disaster recovery plan (DRP) in place. A solid disaster recovery plan will allow your business to resume operations as quickly as possible after a crisis.
What is a DRP?
A DRP is part of a business continuity plan that outlines how your business should handle any potential disaster that can affect its operations. The purpose of a DRP is to quickly get your company up and running after a disaster to minimize the loss in revenue and profit.
What are the types of disasters that can disrupt your business?
Disasters come in all shapes and sizes, and while it's possible that not all of them will hit your business, having a contingency plan when it does will ensure the survival of your company. Here are some of the most common disasters most if not all businesses face.
Natural disasters
Cyberattacks
Utility outage
Global pandemics
Human error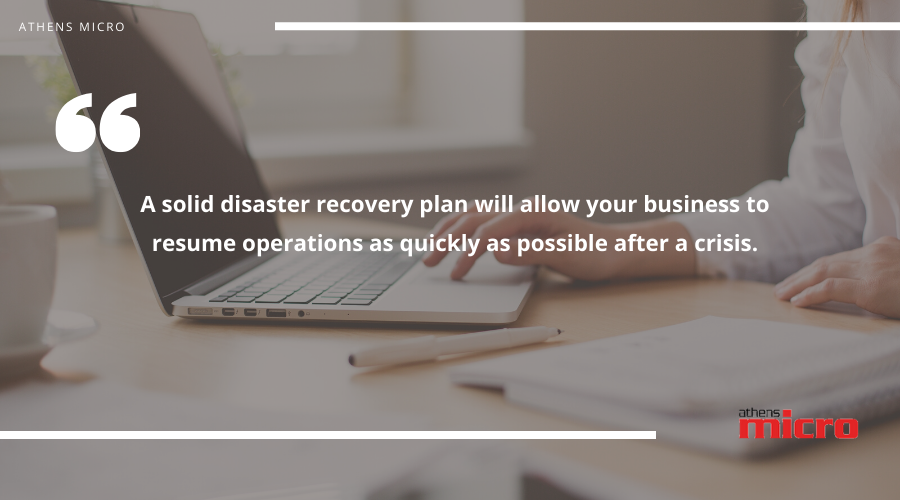 How to build an effective DRP
Building a DRP should be a top priority for business owners because it will ensure the survival of their business in the event of a disaster. Here are some tips on how you can create an effective DRP.
#1 Identify which services should be prioritized
Your DRP should prioritize which services you want to get up and running first. The order of priority should be according to which services are the most critical to your business operations. You should take into consideration the maximum amount of downtime your company can handle, and plan achievable recovery time objectives from that.
#2 Document your plan
An effective disaster recovery strategy begins with documenting the important steps of the plan. This should include a list and contact information of key personnel and their corresponding roles and responsibilities in the event your company faces a disaster. Your DRP must also outline how to prevent the loss of valuable business assets and inventory.
#3 Assess the risks
After documenting your DRP, your IT staff or that of a managed IT services provider (MSP) will assess the possible risks in your company. Part of your DRP should include reviewing your current infrastructure and identifying potential weaknesses that hackers can exploit. Your IT staff or MSP will then provide you with recommendations on how to enhance your company's cybersecurity.
#4 Talk to your cloud provider
Many businesses that use the cloud think their data is safe from any disaster. While this is true for some cloud services such as Software-as-a-Service, you should still coordinate with your cloud provider or MSP to see what contingencies they have in place to ensure the security of your data.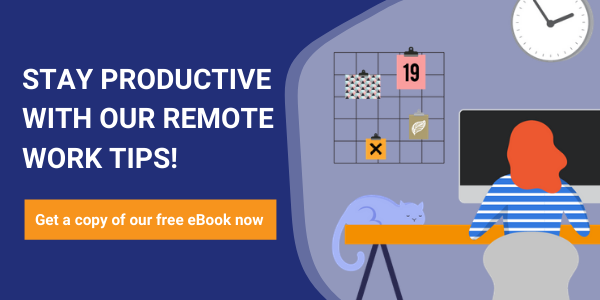 #5 Test your DRP
Perform regular testing of your DRP to see if it's able to restore business operations within the parameters you set. Present the plan to your staff and encourage them to be proactive during practice runs. This will allow you to identify any weaknesses and implement necessary revisions.
Any form of disaster will result in business disruption and downtime. This can cost your company a lot of money, and if you don't have the proper measures in place, your business might not recover after a disaster. This is where a trusted MSP like Athens Micro can help. Our IT experts will build, implement, and maintain an effective DRP to get your business up and running as quickly as possible. Download our free eBook to learn why your business needs a DRP.
Like This Article?
Sign up below and once a month we'll send you a roundup
of our most popular posts