It's a familiar storyline: "Employee opens an email attachment and infects business with ransomware." For those responsible overseeing the data protection and cybersecurity of their organizations, headlines of this nature are nothing new. Even the most advanced cybersecurity solutions can't completely guard against the sophisticated methods hackers and scammers leverage to target small- to medium-sized businesses (SMBs). All it takes is for an employee to open a single malicious attachment or click on an infected link to put a company's cybersecurity posture at risk.
Over the years, employees have been deemed the weakest link of an organization's security. According to a study, employees continue to be lulled into a false sense of security when advanced data safeguarding and other protection technologies are put in place. While security software is considerably helpful in thwarting breaches and data theft, SMBs also need to put the necessary time and effort into proper security training for their employees and not merely rely on cybersecurity solutions alone.
There are a few tips and best practices that you can incorporate into your employee training to help support your success: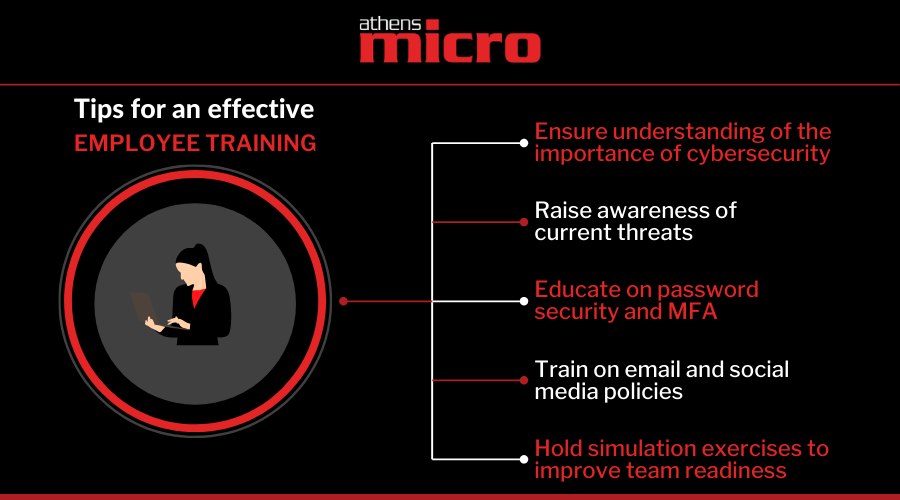 Ensure your employees understand the importance of cybersecurity
If your employees don't understand the significance of data privacy and protection, firewalls, intrusion detection, and other cybersecurity defenses are useless. One of the first steps in training is making sure that your employees understand the critical importance of securing your systems, networks, and applications. They need to know why it's important, how a breach can impact them, and how to mitigate attacks.
Raise awareness of current threats
Cybersecurity training can be overwhelming, especially if your company has never engaged in this type of initiative before. With the threat landscape constantly changing, it can be difficult to identify where to start. Some top issues many SMBs face include:
Software and hardware vulnerabilities
Ransomware
Unwanted cryptocurrency mining
Data breaches
Weak router security
Phishing and business email compromise (BEC)
Making sure that your employees are aware of and understand top threats can help reduce the chances of these risks impacting your security.
Educate employees on password security and multifactor authentication
People still need passwords to unlock their devices, log in to their accounts, and access work-related applications. It's a lot to remember, so most employees set generic passwords that are easy to unravel. This is why online cybersecurity awareness training should help employees understand how critical proper password best practices are.
Teach them that passwords are the first line of defense to keep sensitive information safe and hackers at bay. Show them how to set unique and strong passwords that include a combination of letters, numbers, and symbols. On top of that, implement multifactor authentication (MFA), the use of multiple credentials, to further bolster account protection.
Train them on email and social media policies
The email and browsing habits of your employees can leave your company vulnerable to malware, which spreads to applications and social accounts and steals critical data. This is why you need to train your employees to follow policies and guidelines for using email and social media accounts.
Include guidelines on the types of links and attachments that they can click and those they shouldn't. For example, emails that appear suspicious should be properly verified before being opened or responded to. Outline rules for internet browsing and social media usage on company devices. If you allow your staff to work remotely, you should have stringent remote work policies in place so your employees know what tools to use, how to connect to networks provided by your company, and how to use and store data appropriately.
Hold simulation exercises to improve team readiness
Offer your employees opportunities to prepare for pressing situations. It's easy to learn "by the book," but in real-world scenarios, employees can get flustered or succumb under pressure. Simulation exercises can be developed internally or with the help of trusted cybersecurity experts. Your employees must learn proper communication strategies and be able to make critical decisions to eliminate the risks. It can be as simple as reporting suspicious activity or anomalies in systems or networks.
Make sure your employees are aware of these strategies so they can be proactive and further beef up your business's cybersecurity readiness. This puts them in a position to properly identify and report an emerging or impending threat. Are you doing enough to train your employees? If not, connect with our experts today to help you get the best out of your cybersecurity strategies.
Is your data secured?
Find out why and how you should back up your data. Enter your name and email and we'll give you a Free Consultation.