Someday, your fleet of IT hardware will become obsolete. And the older your machines get, the more likely they are to fail and cause a loss of productivity, often without your knowledge. You can avoid big expenses by updating your computers at least every four years. If you wait any longer than that, there's a big risk of being compelled to upgrade many other components simultaneously.
Upgrading your hardware doesn't mean you have to buy every single piece of new technology. You should still be careful about how and when you upgrade or replace them. Take a look at the following signs that will help you determine when to upgrade:
Frequent performance issues
As IT machines age, their performance dips. Firstly, physical wear and tear take their toll on hardware components. Secondly, in time, users upgrade their operating systems and apps. This means that they also increase processing power requirements. It's like making a pickup truck pull a fully loaded semi-trailer. The more your desktops slow down, the more your employees will find it difficult to keep up with daily tasks.
While you can improve your computer's performance by uninstalling unused software, removing malware, and deleting old files, aging computers are prone to performance issues that can cause more problems. If you wait too long to upgrade your computers, they won't have the capacity or processing power necessary to run updates and be at par with newer operating systems and applications.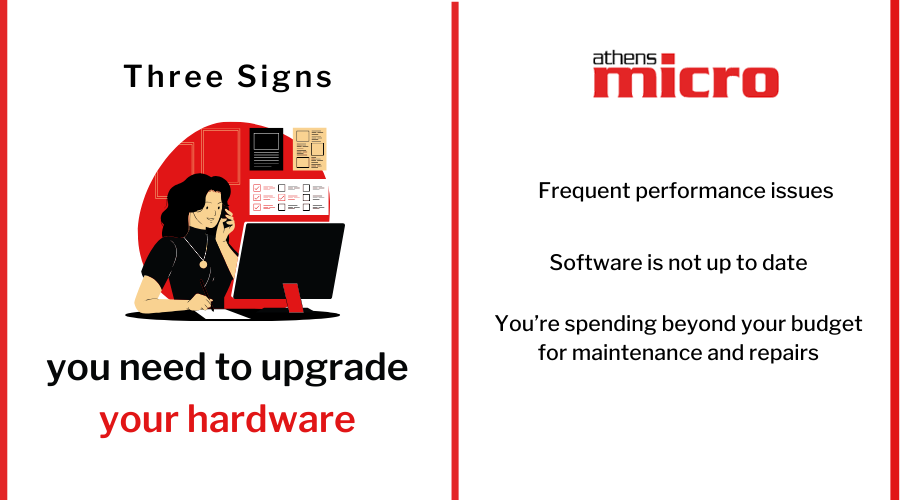 Software is not up to date
Keeping software and operating systems updated helps your company prevent security risks. This is one of the most effective measures to protect your critical data. Updates, however, come with hardware requirements such as hard drive space and RAM, among other things. When your computers can't meet the hardware requirements, chances are they won't be able to run or install the new software updates. Without the new updates, your system is vulnerable to attacks that can disrupt your employees' productivity and your services.
You're spending beyond your budget for maintenance and repairs
To some extent, hardware maintenance and repair can extend the lives of your computers, servers, routers, and other equipment. Replacing damaged components within their warranty periods is practically cost-free, whereas other repairs initially start out as the more economical option over replacing entire machines. However, constant maintenance and repair work on your equipment will eventually incur more costs than replacing it. If you're facing this issue, consider upgrading.
As businesses start to use more advanced technologies and solutions, it's important to keep your IT hardware updated and intact. Here are some benefits of upgrading your hardware:
Increased security – Upgrading your hardware will enhance the security of your systems. In addition, with proper updates, you ensure the protection and functionality of your equipment across your entire IT infrastructure. You also prevent potential regulatory and compliance issues, saving you money in the long run.
Reduced costs – New equipment comes with new and often better features that directly reduce your operating costs, which in turn enhances operational efficiencies. For example, having energy-saving components will help curb your electricity consumption, ultimately helping your bottom line while impacting the environment.
Better management – With newer features, your employees can enjoy working with better and faster tools. For example, remote management and monitoring tools can increase the productivity of your workforce by automating repetitive tasks while keeping tabs on applications, systems, and devices.
Being in business means competing in today's dynamic, digital economy. If you want to keep your IT infrastructure in peak performance but don't know where to start, an experienced managed IT services provider (MSP) like Athens Micro can help you. If you're around Watkinsville, Georgia, drop by to get a free consultation or give us a call today.