The cloud is a no-brainer for business owners who are looking to cut costs, increase efficiency, and enable workforce mobility. However, choosing the right cloud solution could be tricky because businesses have varying needs and cloud services are not all built the same.
Picking the right cloud managed service provider isn't a process that happens overnight. You'll have to consider different deployment models, service offerings, features, and security controls, among other things. How do you know which provider is the right one for your business?
Consider asking the following questions: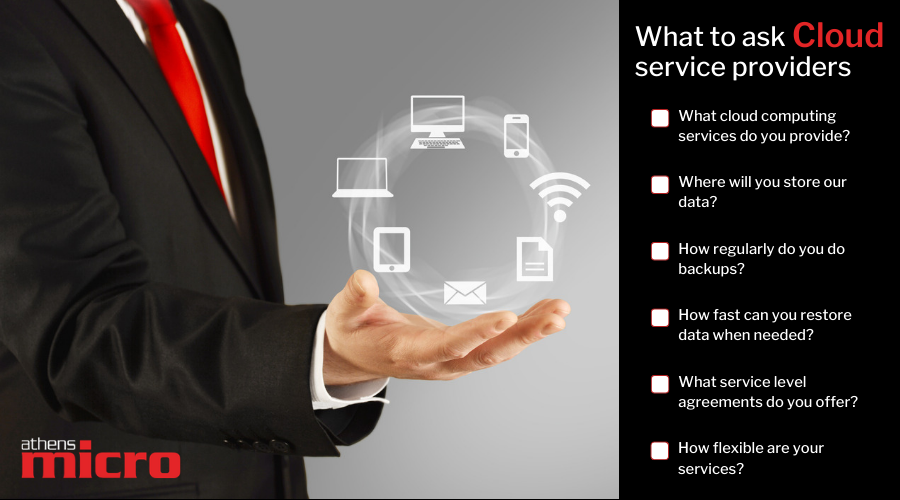 What cloud computing services do you provide?
This first question is important for weeding out providers from your list. After all, if they don't have the cloud services you need, then they won't be a good fit to begin with.
Cloud solutions come in three different flavors: public, private, and hybrid. Each deployment comes with specific sets of pros and cons, and the one you choose will depend entirely on your business requirements.
Public – This type of cloud is a service where computing resources such as processing power and storage as well as the cloud solution are owned and managed by a cloud services provider (CSP) over the internet. Think of using the public cloud as akin to living in a condominium. The condo is a metaphor for a server or server cluster, and you'll be one among many other tenants there. Since hardware, power, and maintenance costs are spread across many tenants, the public cloud is cost-effective, making it best suited to scale with a company's growth. However, because servers are shared with other companies, data privacy and compliance can be an issue.
Private – The private cloud has an infrastructure that's exclusive to each client. It's designed to provide organizations more control over their data and how it's secured, making it ideal for adhering to data protection policies. Such levels of control, however, can be pricey. The additional infrastructure and customized configurations required to deploy them can incur higher fees.
Hybrid – The hybrid cloud is a happy middle ground between the public and the private cloud. Your company can use the private cloud for managing sensitive records and the public cloud for dynamic processes. You'll be able to enjoy the practicality and on-demand scalability of the public cloud and the security of the private cloud.
Download our free eBook!
Interested in moving to the cloud? Gain more background information on how it works and why you need it by reading our free eBook: Demystifying the Cloud
Where will you store our data?
It's a bonus when the provider has a fallback data center or two. You want to make sure that your data is stored in an up-to-date data center to ensure both reliability and performance as you access the services.
In case of natural disasters, cybersecurity breaches, or power outages, it's better that your provider has a secondary data center to eliminate or minimize interruption.
How will you ensure the security of our data?
Security is paramount when it comes to safeguarding customer data. Ask the provider about:
Their security policies and practices
The size and experience of their security team
Past cybersecurity issues (i.e. breaches, data backup incidents)
How regularly do you do backups and how fast can you restore data when needed?
Backups and restoration are critical functions. If your data gets damaged, deleted, or stolen, the best solution would be to restore a recent backup. Timing is important because the older the backup, the more data you end up losing when it's restored.
Ask the provider if they offer hot backups (i.e., ones that run regularly during the day) and how long it takes to perform a restore.
What service level agreements (SLAs) do you offer?
An SLA is a promise to provide a specific level of service, be it for system restores, service uptime, backups, among others. However, a good cloud services provider offers more than one tier of SLAs.
For example, a lower-priced tier may promise that a restore request will be completed within one business day, while a higher-priced tier could guarantee a restore within an hour.
Ask about how the provider will make up for failing to fulfill the SLAs. Penalties such as financial compensation or the waiving of service fees are common among providers.
How flexible are your services?
One of the biggest advantages of cloud computing is its ability to add capacity and services as they're needed and reduce them when they are not. This kind of flexible consumption license model will save your business money by enabling it to take on short-term projects without the need to permanently purchase hardware and software licenses.
Asking the right questions results in better decision-making. Take the time to review your considerations to find the services and support model that best suits your business. Make your investment a success with Athens Micro. Call us today to learn more, or if you're in Watkinsville, Georgia, drop by and we'll give you a tour.
Like This Article?
Sign up below and once a month we'll send you a roundup
of our most popular posts